Yoga, Ayurvedic Massages and more
in collaboration with
Stefania Mastruzzo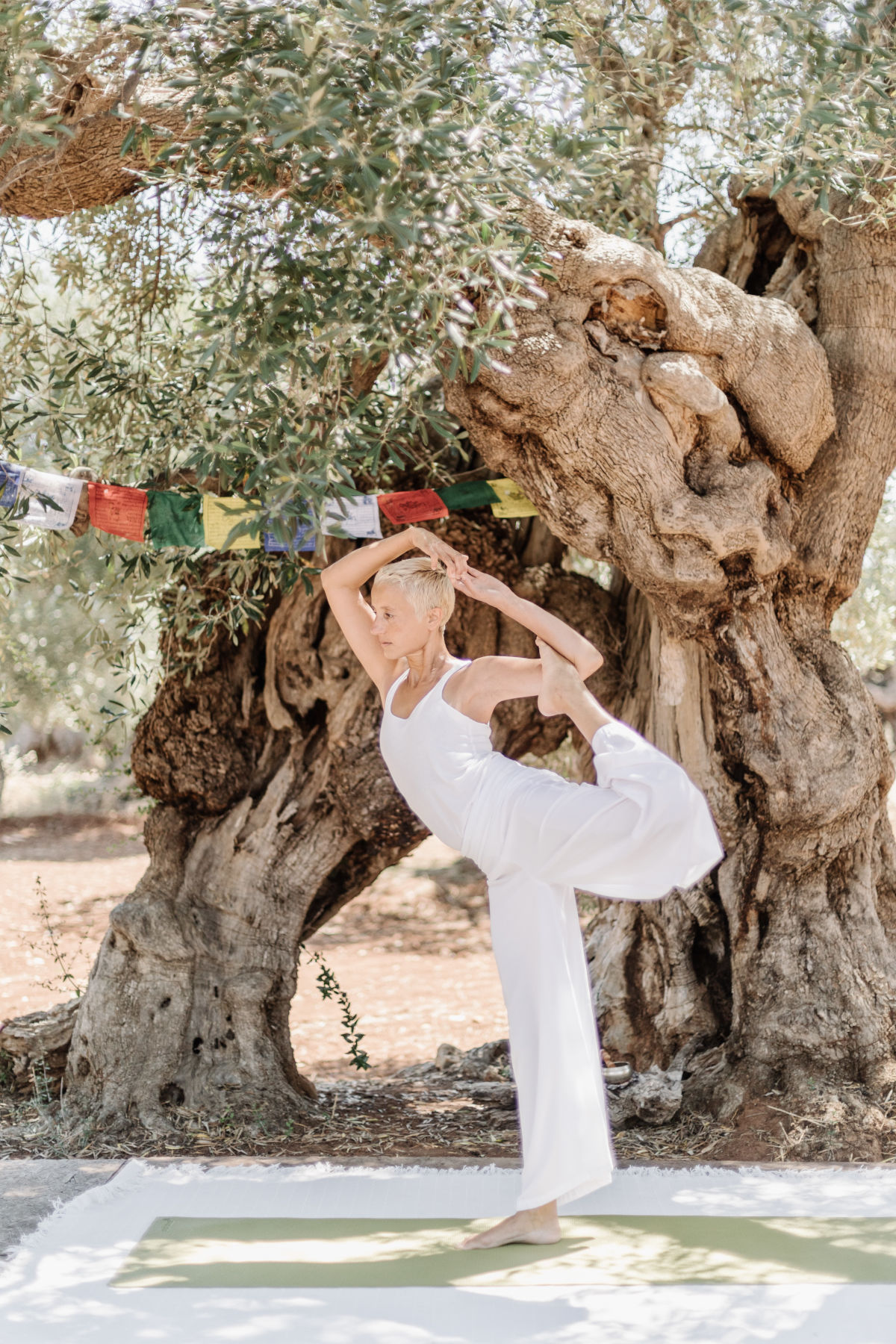 Stefania Mastruzzo teaches Hatha Yoga, Yin Yoga and Yoga Nidra. She is also a nutritional coach and follows the Ayurveda medicine principles. She also offers regressive hypnosis sessions and is also a facilitator of new paradigm MDT energies offering individual sessions and seminars.
Personalized yoga classes that meet the requirements and needs of guests. The course can be done in your room or outdoors, under the secular olive trees, or any other suggestive/enchanting corner of the Masseria.
You can choose between different styles of yoga, like Classic Hatha , Flow, Yin Yoga, Gentle Yoga, Prenatal and Postnatal Yoga or let the teacher advise you.
Hatha Yoga Classic,  for an active and complete practice. This course also includes a pranayama (breathing exercise that calms the mind and frees emotions) and Yoga Nidra, (conscious sleep, for a total relaxation of senses, body and spirit)
Yin Yoga, Slow P deceptiveness that allows to act on the deep connective tissues, to feel the movement in non-motion and the flow of energy through the body.
Yoga Nidra. Conscious sleep yoga, fora total relaxation of senses, body and spirit.
Pranayama, breathing exercise that calms the mind and frees the emotions, guided or silent meditation
Lesson of 90 minutes: Pranayama, Asanas and short Yoga nidra
35€ per person
65€ per 2 persons
75€ per 3 persons
20€ per person up to 4 persons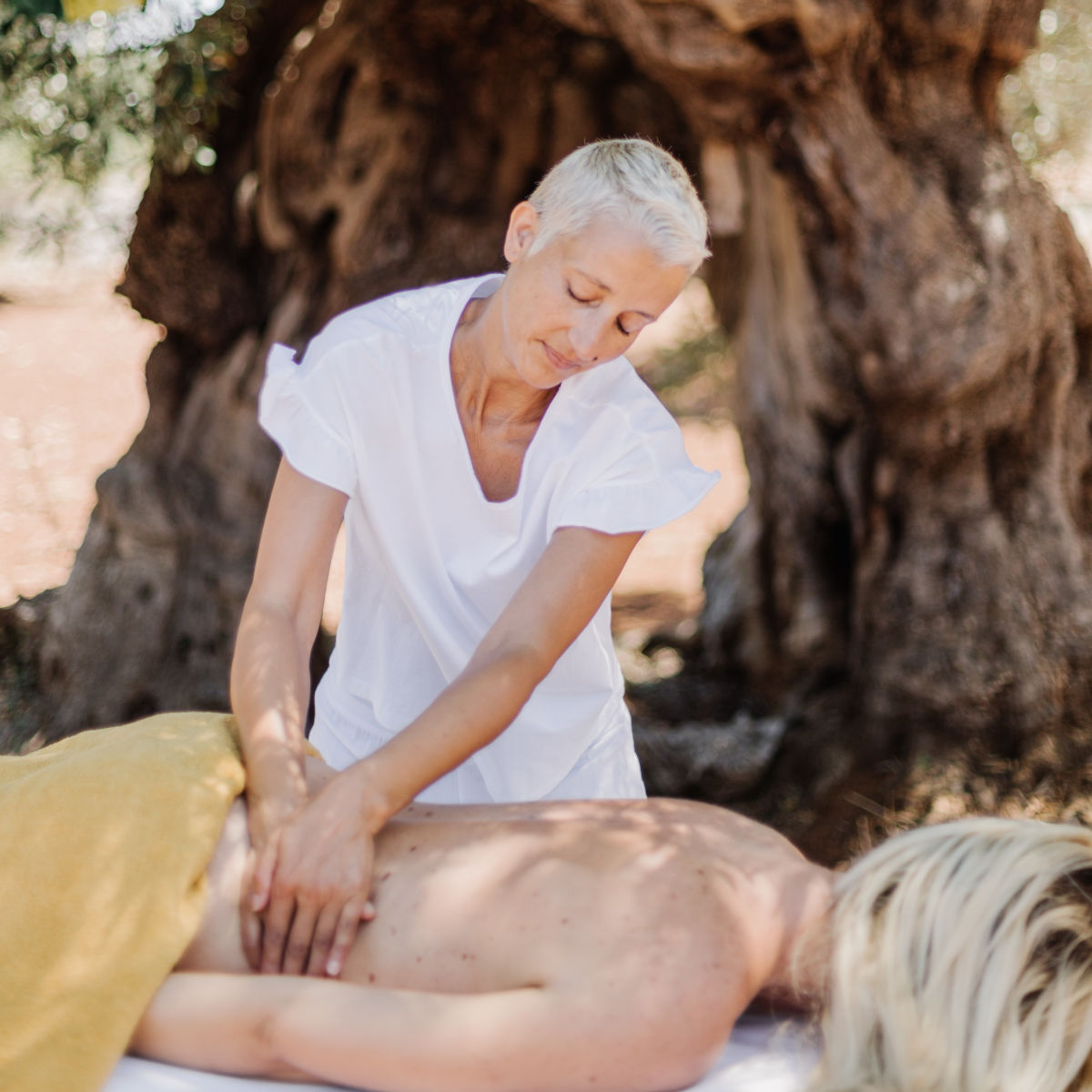 Abhyanga – Ayurvedic Massage
This type of massage is designed to create balance among the mind, body, and spirit, and help the body heal itself. It's sometimes referred to as an "oil massage" because it typically incorporates warm herb essential oils, as well as time-honored and non-traditional strokes and kneading that suit an individual's needs.
60 minutes 70€ – 90 minutes 90€.
Lomi Lomi – Hawaian Massage
Massage of ancient origins born in Hawaii. Slow, deep and wide movements will make you feel as if a wave is moving along your skin. A rhythmic process that will bring you immediate benefits, dissolving the tensions that reside deep in your tissues and on a spiritual level facilitates the connection with yourself.
60 minutes 70€ – 90 minutes 90€
Shiro Abhyanga – Head Massage
Shiro Abhyanga essentially means a complete massage of the head, neck, and shoulders using Ayurvedic herbal oils. These are the areas that are most affected by stress, which is why Shiro Abhyanga is beneficial in reducing pain and stress in these regions.
40 minutes 40€
Lymphatic Draining Massage
It is a form of gentle massage that encourages the movement of lymph fluids around the body. The fluid in the lymphatic system helps remove waste and toxins from the bodily tissues. Lymphatic drainage massages can benefit peoplewith lymphedema, problems with heavy legs, water retention, problems affecting blood circulation, fatigue and other conditions.
60 minutes 70€ – 90 minutes 80€
Foot Massage 
A foot massage increases the circulation in your feet and helps your blood and lymph systems carry away toxins. The very process of a foot massage sends messages to the rest of your body to relax. Massaging the feet targets the rest of the body.
40 minutes 40€
Decontracting or Swedish Massage
Massage applied with medium pressure over the contracted or problematic muscular area to unknot and relax the muscle, and to relieve
pain.
60 minutes 70€
Massage Express
Back, neck and shoulders, or legs and feet.
30 minutes 40€
Couple Massage
Choices of Relaxing, Lymphatic, Swedish, Lomi Lomi massage (made by two therapist)
60 minutes – Price depending on the type of massage choosen (120€ to 140€)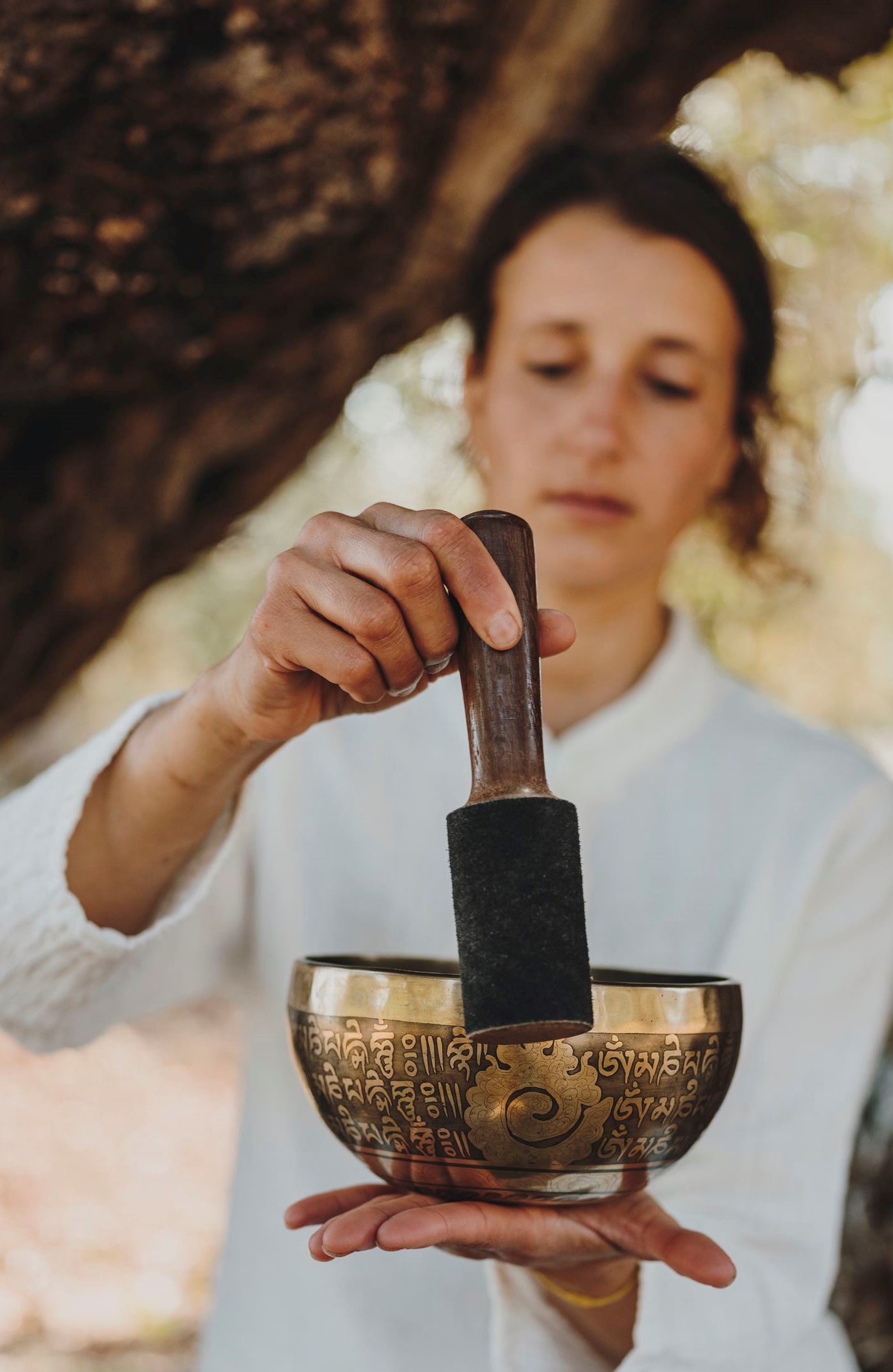 The sensitivity of Stefania Mastruzzo, our holistic therapist will guide you and accompany you on an internal holistic journey, to the rhythm of the seasons, for a deep link with the surrounding nature and regain balance and the harmony of your body and mind:
Program suggestion
The program will be fully customized according to the needs and duration of the stay. We offer a prior interview with the therapist before your arrival at the Masseria.
Morning
Test Ayurvedic
To discover his personal dosha, to be done from the first day
Morning Ayurvedic routine:
Mouth and tooth cleaning, sesame oil rinse.
Warm ginger and lemon beverage
Yoga
Anointing and warm shower
Breakfast adapted to your dosha (Vata, Pitta, Kapha)
Moment of silence
Walk in the olive grove, embracing the trees, meditation in the oil mill hypogeum, relaxing moment sitting in the shade of the millenary olive trees.
Nutrition Lesson (optional)
How and what to eat. Biorhythm of the digestive system, combination food. Food to avoid, balanced meal model, mini depurative diet, mini fast.
Lunch at the Masseria (optional), or suggestions for lunch (in case of an outside lunch)
Afternoon
Body therapy to choose between:
Ayurvedic massage Abhyangam whole body; back and legs; head and neck
Re-birth metamorphic massage
Shamballa energy healing
Yoga and Yoga Nidra
Guided meditation
Music or song of mantras, the sounds that heal
Light diner
180€ per person/day
2 yoga classes
1 massage
Nutrition lesson
1 ayurvedic kit
Ayurvedic infusion
Meals are not included
330€ for 2 persons/day without meal
2 yoga classes
1 massage per person
Nutrition lesson
2 ayurvedic kit
Ayurvedic infusion
Meals are not included